War Mongrels Renegade Edition Out Now for PlayStation 5
Special boxed edition paints a portrait of the Eastern Front in World War II
Leading publisher Meridiem Games is pleased to announce that the special boxed Renegade Edition of War Mongrels is out now for PlayStation 5 across European specialist stores. Developed and digitally distributed by Destructive Creations, War Mongrels is a gripping isometric real-time tactics game that shows the lesser-known side of World War II through the eyes of a group of disillusioned deserters struggling to survive on the Eastern Front.
Meridiem Games is in charge of the design, manufacture and European distribution of the special boxed edition of War Mongrels and has created the striking Renegade Edition containing a digital soundtrack of the game, an art book with detailed character biographies in a specially designed case with exclusive artwork.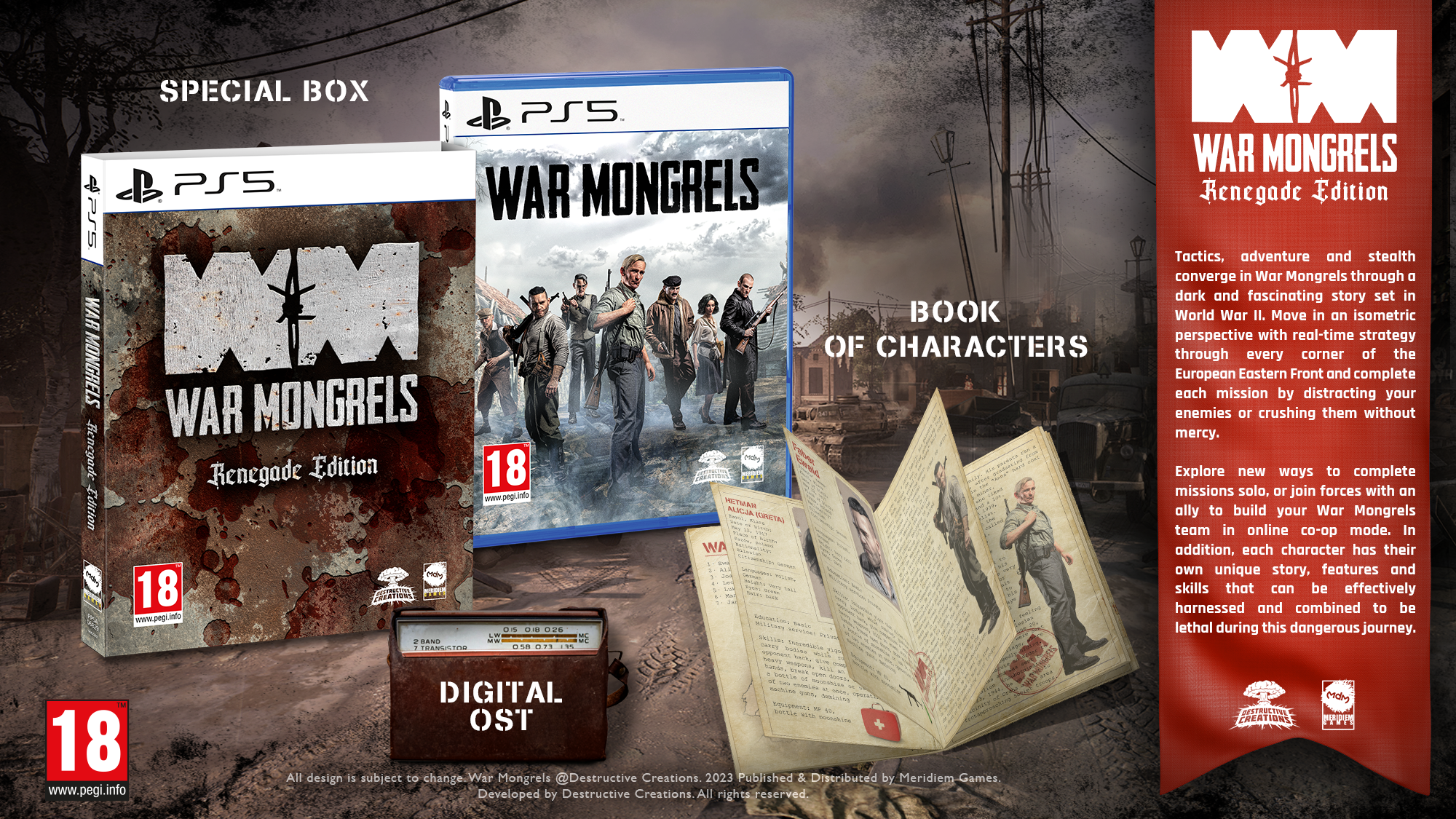 After defecting to the Third Reich, a group of disillusioned fugitives struggle to survive the brutal trials of the Eastern Front of World War II. As they sneak across the war-torn territory, they will have to confront an evil that challenges not only their values and ideals but all of humanity.
Discover a little-known side of World War II through the harrowing campaign of War Mongrels. Accompanying the visceral action are animated scenes that expand on the story, inspired by real accounts from survivors and war historians. Seeking authenticity in the details of uniforms, regional terrain, newspaper articles and everything in between.
Developer Destructive Creations aims to shed light on aspects of World War II that rarely appear in history books. All content in War Mongrels was subjected to careful and thorough scrutiny, with references to a wide range of historical sources, verified by history consultants Michał Flont, Jack Cuccurullo, and endorsed by independent historians from around the world.
Features:
War Mongrels mixes dynamic, tactical, adventure and stealth elements, packing it all into a dark and fascinating story.
Guide the squad as they escape the forces of the Third Reich. Get to know your squadmates, each character has their own personality, background and abilities, which you can use throughout the journey.
Use the interactive environment to your advantage, use diversionary tactics, whistle, play music boxes or throw objects before continuing through enemy lines, guard barracks, prisoner blocks, concentration camps and mass graves that stand as a testament to the horrific cost of war.
Catch soldiers unawares by ambushing them from the shadows with strategic flanking and a range of character abilities, or go in hard using typical twin-stick shooter controls as bullets fly across the battlefield.
Plan your attacks by pausing the action and giving orders to each squad member, allowing for tactical assaults when the enemy least expects it.
Join forces with a friend in online co-op mode.

The special boxed Renegade Edition of War Mongrels is now available for PlayStation 5 across European specialist stores.