Serenity Forge and Meridiem Games Announce Boxed Edition Content for art of rally
Master the art of rallying in the Deluxe Edition for PlayStation 5 and Nintendo Switch
art of rally, the stylish and beautifully designed racing experience, will release later this year as a special boxed Deluxe Edition for PlayStation 5 and Nintendo Switch via Serenity Forge and Meridiem Games. Originally developed and published by Funselektor Lads Inc. (the creators of Absolute Drift) and published physically by Serenity Forge, art of rally is inspired by the golden era of rallying featuring iconic cars from the '60s through to the '80s. Meriediem Games will be responsible for the design, manufacture and European distribution of the boxed Deluxe Edition.
The boxed Deluxe Edition of art of rally for Playstation 5 and Nintendo Switch will be available across European specialist stores and will include a specially designed case with exclusive artwork, a cloth patch inspired by the game and a colour poster featuring the cars you will be able to drive in the game.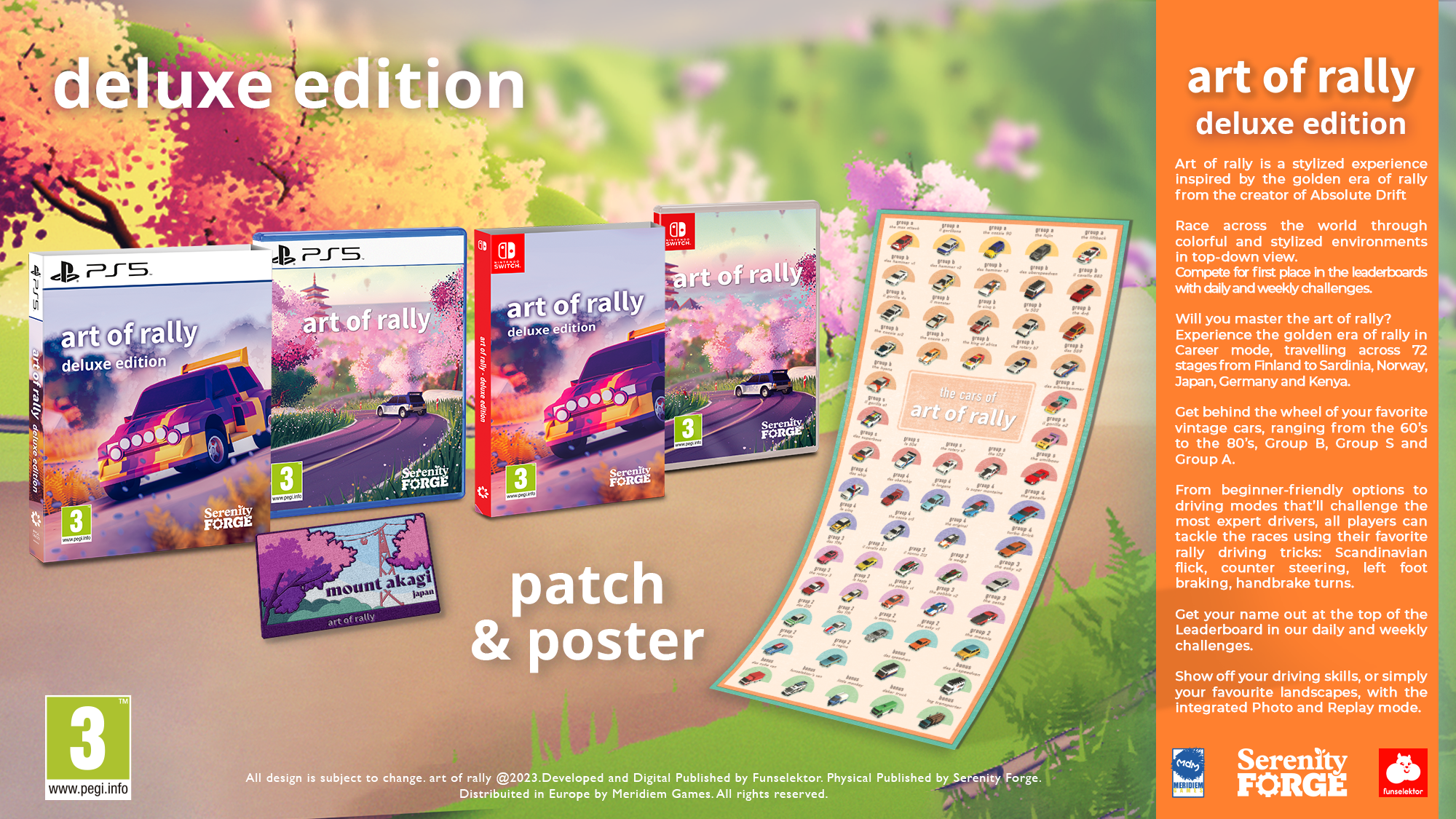 In art of rally, aspiring rally drivers will drive through colorful, and stylized top-down environments inspired by real worldwide locations. Compete for the top spot on the leaderboards with daily and weekly challenges.
From beginner options to driving modes that will challenge even the most experienced drivers, all players can take on the races using their favorite rally driving tricks, such as the Scandinavian flick, counter-steering, left-foot braking and handbrake turns.
Features:
LIVE THE GOLDEN YEARS OF RALLYING
Experience the golden age of rallying in Career mode, travelling through 72 stages such as Finland, Norway, Japan, Germany or Kenya.

More than 50 emblematic rally cars

Your favorite vintage cars, from the '60s to the '80s.
AUTHENTIC MANAGEMENT
LEADS TO THE TOP
PHOTO MODE