Serenity Forge and Meridiem Games Reveal Special Boxed Edition Content for Absolute Drift
Master the art of drifting in the Special Premium Edition
Serenity Forge and Meridiem Games have revealed more details about the upcoming special boxed edition of Absolute Drift coming to Nintendo Switch at the end of 2023. Published by Serenity Forge and developed by Funselektor Labs Inc., Absolute Drift is a stylistic racing game that challenges you to become a master at the art of drifting.
Meridiem Games will be responsible for the design and manufacture of the special boxed Premium Edition of Absolute Drift as well as the distribution throughout European specialist stores. The Premium Edition will contain a special case with exclusive artwork and a sticker for your car window.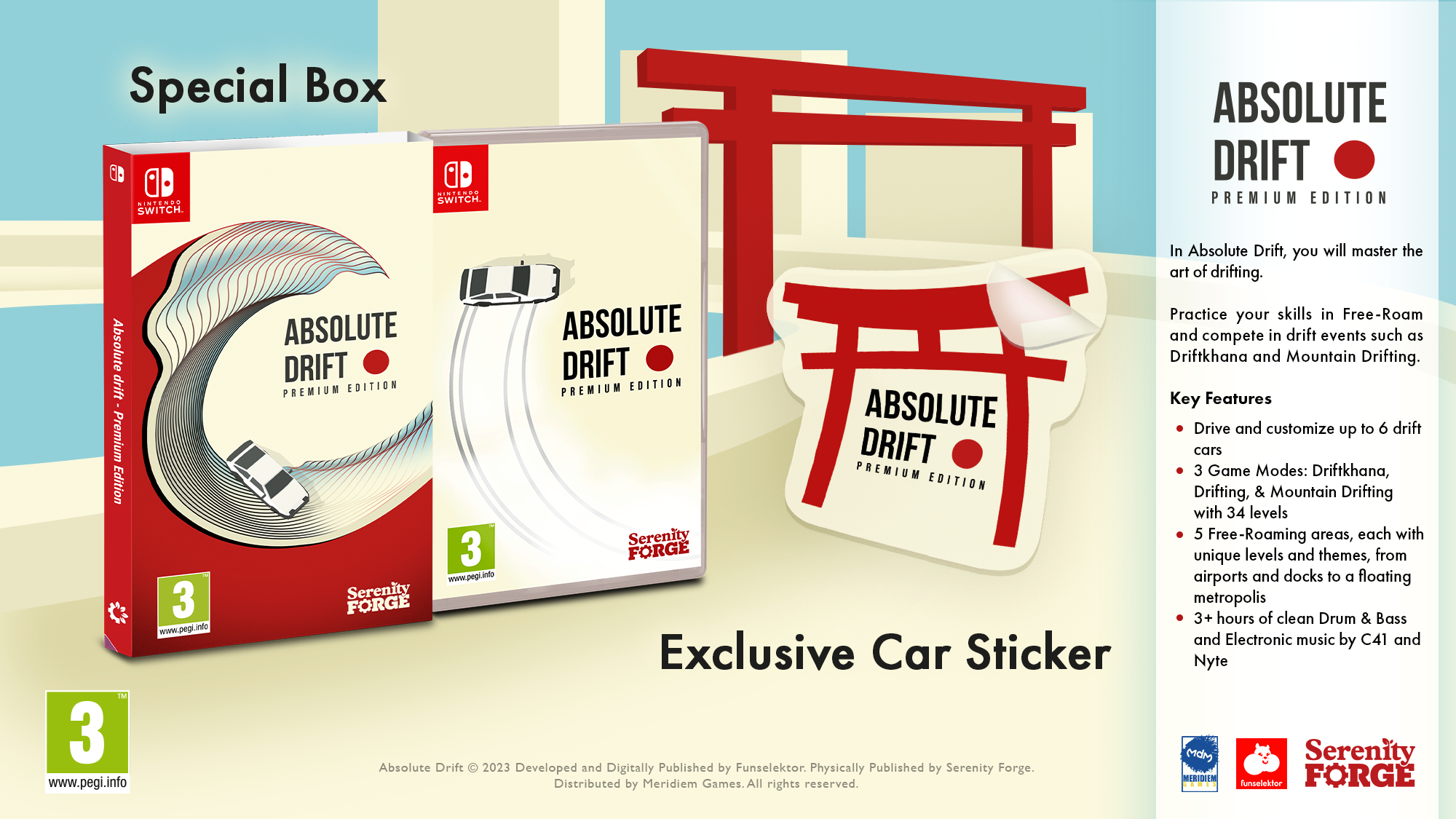 Absolute Drift challenges you to master the art of drifting as you practise your skills in Free-Roam areas and compete in events like Driftkhana, Drifting and Mountain Drifting. Drive alongside the 'ghosts' of the world's best drifters, see your ranking on the online leaderboards or view your friends' best runs.
Are you ready to take on the challenge and become a drift master?
Absolute Drift features:
Drive and customize up to 6 drifting cars
3 game modes: Driftkhana, Drifting and Mountain Drifting, with more than 24 levels.
5 free-driving areas, each with unique themes and levels, from airports and docks to a floating metropolis
Online rankings
More than 3 hours of electronic music and Drum & Bass courtesy of C41 and Nyte.
Complete support for Nintendo Joy-Con controllers
Absolute Drift Premium Edition is now available for pre-order for Nintendo Switch.