The Many Pieces of Mr. Coo ya está disponible en formato físico y digital
El juego nominado a los Gamescom Awards 2023 en la categoría de Best Visuals
The Many Pieces of Mr. Coo es una enigmática aventura Point&Click, con una historia surrealista, una increíble animación 2D dibujada a mano y unos puzles completamente desternillantes.
The Many Pieces of Mr. Coo ya está disponible en formato físico y digital. En formato físico mediante dos ediciones Fantabulous Edition y Coollector Edition. La edición física Fantabulous Edition de The Many Pieces of Mr. Coo para PlayStation 5 y Nintendo Switch, incluye una funda exclusiva, distinta para cada plataforma y el llavero exclusivo del personaje Mr. Coo.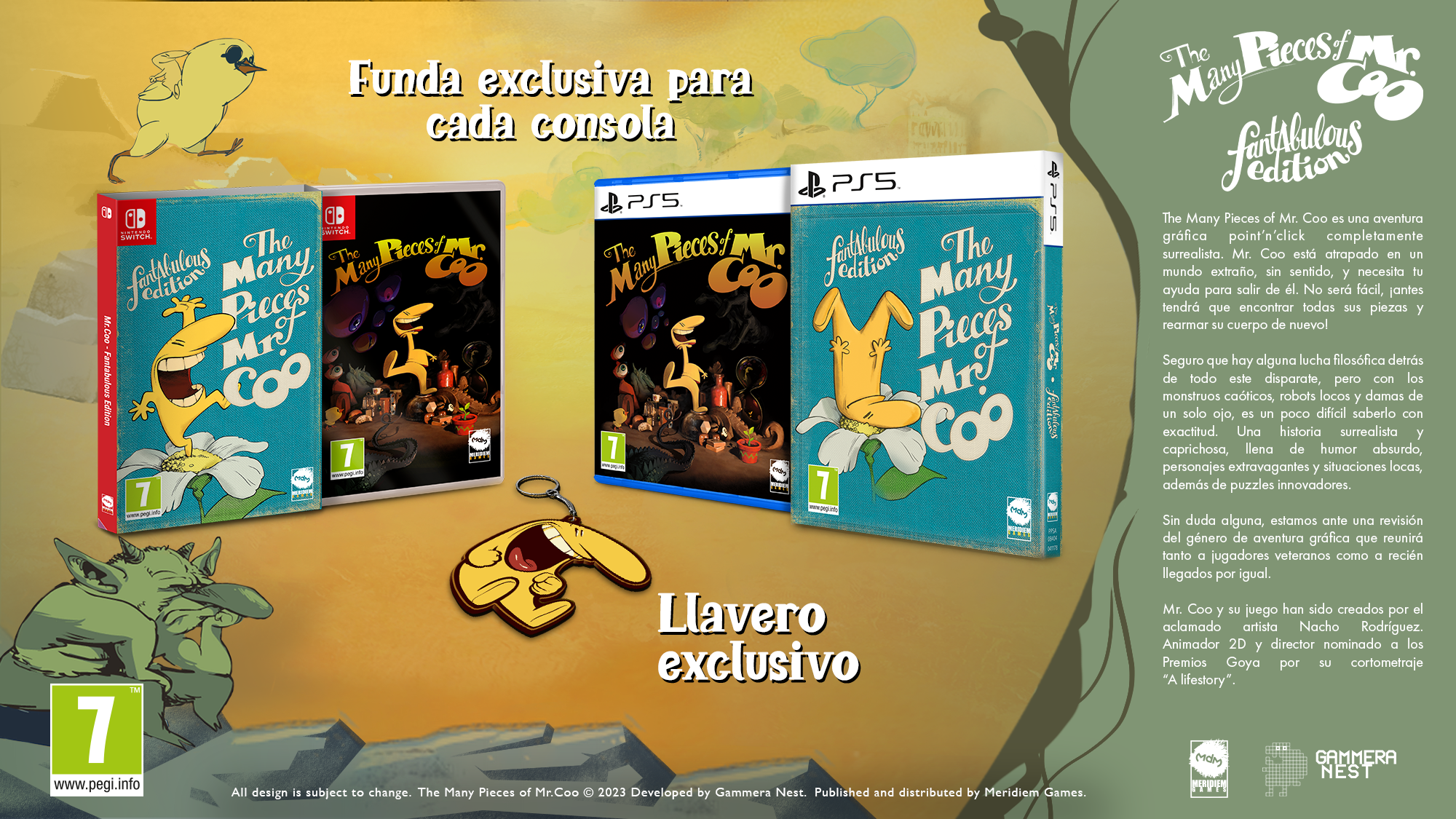 Y si piensas que esta Fantabulous Edition no tiene las piezas suficientes, The Many Pieces of Mr. Coo además tiene otra preciosa edición física llamada Coollector para PlayStation 5 y Nintendo Switch que incluye: una funda especial diferente para cada plataforma, el llavero exclusivo del personaje Mr. Coo, un flipbook con dos historias animadas únicas, una acuarela misteriosa del artista Nacho Rodríguez, un puzle donde podrás hacer trocitos al bueno de Mr. Coo, el libro del artista donde podrás ver el proceso de creación del juego y por último, un precioso vinilo de 7" con la música del juego creada por Julie Reier, todo ello dentro de una espectacular caja coleccionista.
Esta edición estará limitada y numerada a 1000 unidades para el territorio europeo.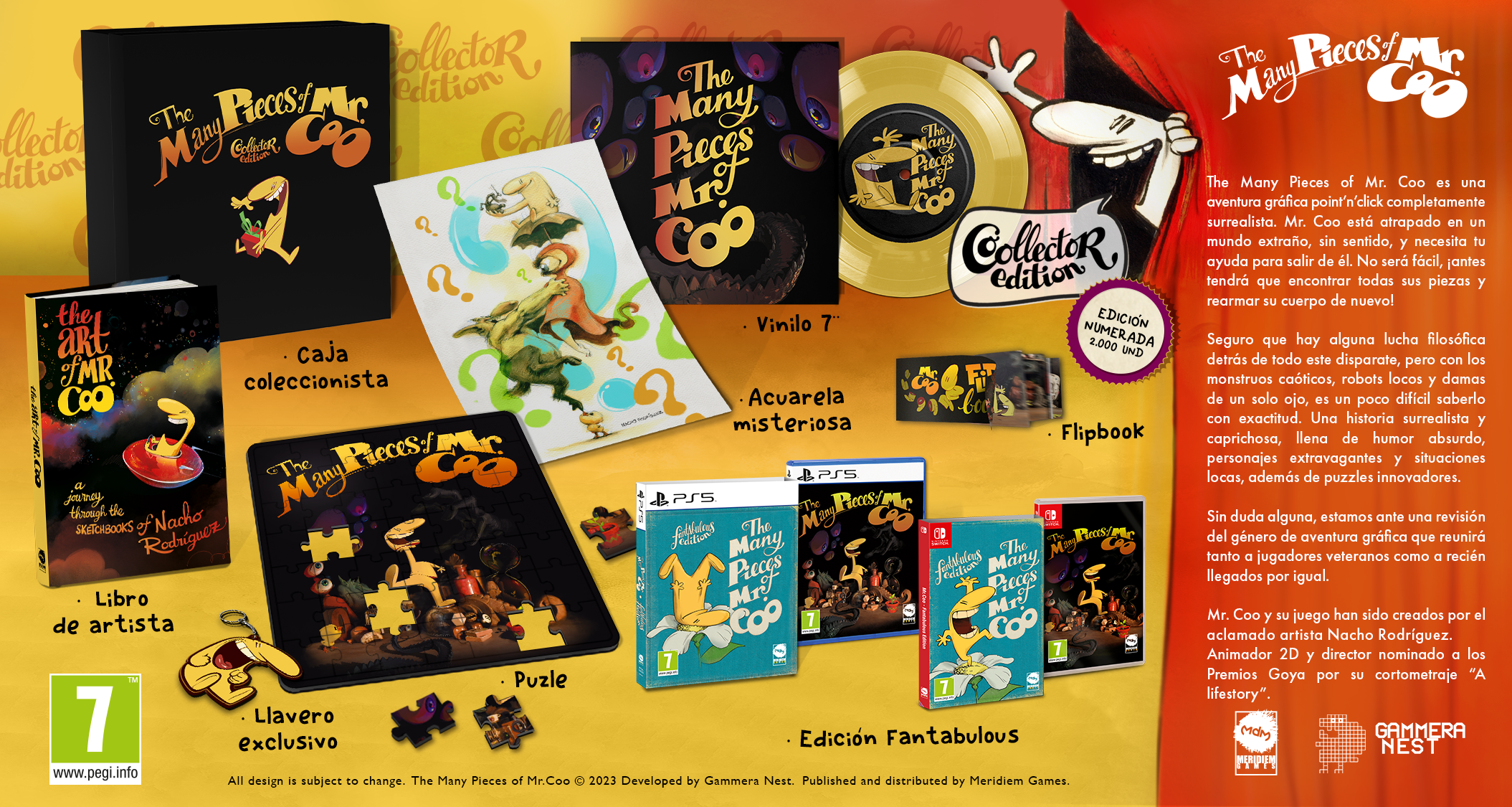 Además, The Many Pieces of Mr. Coo también llega en formato digital a las tiendas de PlayStation, Nintendo Switch, PC y Xbox. Ya puedes hacerte con él aquí: Tienda Xbox, PlayStation Store, Nintendo eShop, Epic Games y Steam.

The Many Pieces of Mr.Coo es una aventura gráfica point'n'click completamente surrealista. Mr. Coo está atrapado en un mundo extraño, sin sentido, y necesita tu ayuda para atravesarlo ¡Pero antes de nada necesita encontrar todas sus piezas y volver a rearmar su cuerpo otra vez! Seguro que hay alguna lucha filosófica detrás de todo este disparate, pero entre pollos gigantes, robots locos y señoritas de un solo ojo, es un poco difícil de saber.
Un asombroso y colorido dibujo animado 2D. Una historia surrealista y caprichosa, llena de humor absurdo, personajes extravagantes y situaciones locas, además de puzzles innovadores. Sin duda alguna estamos ante una nueva manera de entender el género de aventura gráfica que atraerá tanto a jugadores veteranos como a recién llegados por igual.

¡Toneladas de humor absurdo! Mira, ya te hemos dicho que tenemos un pollo gigante, no podemos forzar más la máquina...
¡Un mundo surrealista, enigmático, simbólico y lleno de significado, pero también conmovedoramente tonto!
Asombroso estilo cartoon dibujado a mano con animación 2D
Personajes extravagantes y adorables como el Pollo Gigante, el Fauno o el Axolotl
Un aire innovador al género Point&Click
Las ediciones físicas de The Many Pieces of Mr.Coo ya están disponibles en formato físico para PlayStation 5 y Nintendo Switch en tiendas de nuestro territorio. también está ya disponible en digital para Xbox, PlayStation, Nintendo Switch y PC en Epic Games y Steam.